• Advanced Modular Design Gives Flexibility and Increases Your ROI
Modular!
All of our AsReader models are designed to be "modular". Now you can use the same dock (sled) with your choice of smart device by simply changing the case around the dock!
  Video: Watch how
modular works!
These new AsReaders allow your iPhone 5/6/7/8, iPhone 6/7/8 plus, iPad Air, iPad Mini or iPod touch to become a professional Barcode Scanner or RFID Reader/Writer. Because the new design is modular -- allowing the dock and case to be separate -- as new models of the iPhone or iPad with compatible Lightning connectors are released, the same module of the AsReader device may continue to be used with the next generation smart devices by simply changing the inexpensive outer case.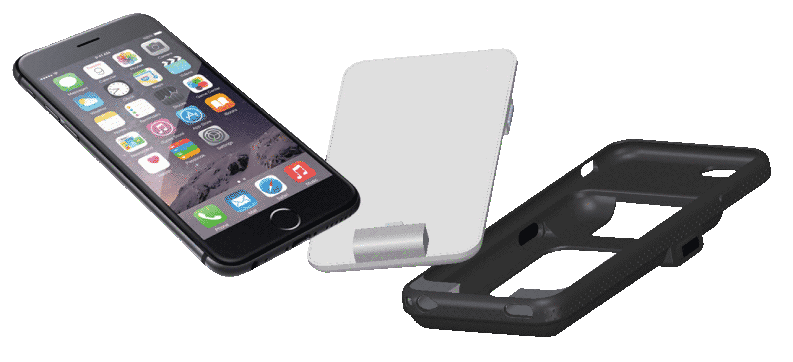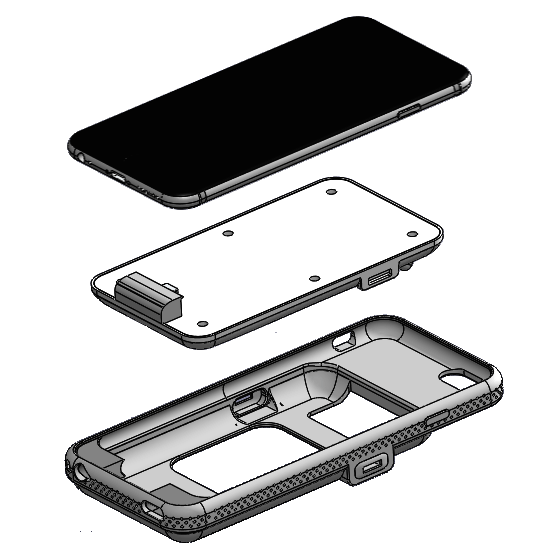 • Stylish & Compact Design
Slim!
Whether its the showroom, a hospital ward, library or out in the warehouse, you'll be comfortable using the AsReader to track, trace, monitor, verify and more to enhance your productivity and operating efficiency.
Easily fits within a shirt pocket, the AsReader dimensions are just a little more than the iPhone or iPad device that it's paired with. Create elegant solutions by using the AsReader with an iPad Air or iPad Mini.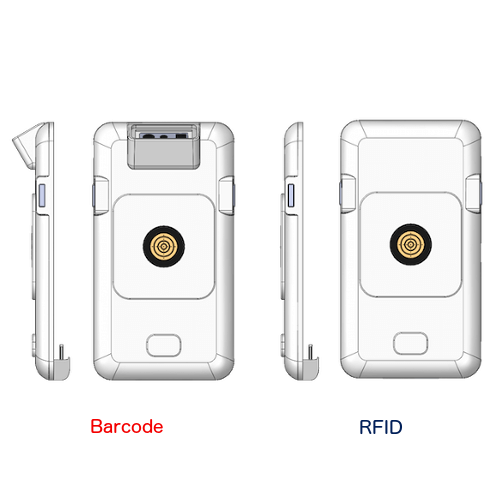 • Fast Cable-free Charging.
Smart!
Ever had your device break at the charging cable connector? With MagConn we eliminate the need for a USB cable connection with our advanced charging technology. Just place your AsReader and/or your iPhone/Android on the charging stand and you can charge both devices through the magnetic connector USB port on the charger.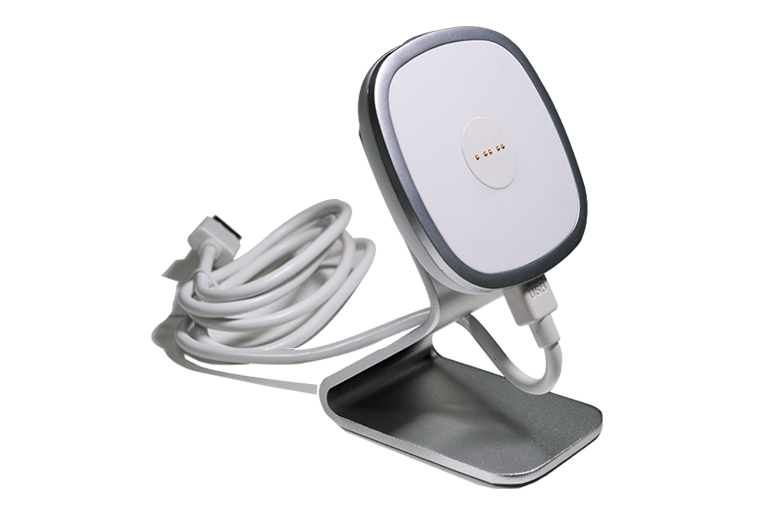 What is MagConn?......... Magconn is an advanced charging technology which combines both wired and wireless options. Magconn sets AsReader apart from other technologies by enabling highly efficient charging via the magnetic USB port. No cables to plug in. No connectors to break.
You can simultaneously charge the AsReader and the iPhone/iPod/Android. Our smart technology will automatically shift full charging power to the other when one of the devices becomes fully charged.
The connector and the device are magnetically attached, so the charging process is worry-free.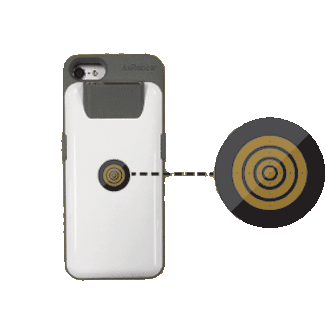 • Battery Backup & Charging Options
Got Your Back.
Forget to charge? Our MagConn external backup battery can be used to keep you going.
The MagConn's magnetic USB connector can be used to easily attach to your AsReader while in the field to charge your AsReader and/or iPhone/Android while you keep working.
The MagConn charging battery can be used:
For remote wireless charging without connecting to a stand or pad.
To simultaneously operate and charge your AsReader.
Stack the MagConn battery between the AsReader and charging stand to charge the battery and the device simultaneously.
*All battery charging solutions are optional.
Wide Range of Applications.
Solutions for iPod touch, iPhone 5, 6, 7, 8 and iPhone plus sizes. Also for iPad Air and iPad Mini and Androids.
Applications for Every Market
AsReader handheld terminals are the ideal upgrade path for many market applications. Our small, elegant size combined with our modular design that will allow future compatible Apple device upgrades and fast app upgrades makes us a logical choice for your Barcode or RFID solution. AsReaders are being used in many different markets, including:

Transportation
Retail
Logistics
Asset Tracking
Field Services
Warehouses

Healthcare & Hospitals
Hospitality
Event Technology
Supply Chain Management
Manufacturing
and more...
See List of Apps