• Upgrade to RFID To Improve Scanning Speed & Efficiency 10x
RFID
Many companies are finding that they can improve on their barcode scanning efficiency by moving to RFID. The key to effectively making the case is to find and quantify where the improvements can be made. Some of the incremental benefits RFID can provide over existing barcode systems are the faster capture of more detailed information on products and assets in motion, reduction of human errors from manual scanning operations, and improvement of integrity and security.
RFID is rapidly becoming a key technology employed in many enterprise mobility solutions. When combined with appropriate business process improvements it can result in clear benefits in many key areas.
Automation. Reducing manual processes through automated scanning and data entry improves productivity, allowing resources to be reallocated to higher value activities. RFID readers may be used for all non-automated processes.
Integrity. Improving the integrity of real-time supply chain information with increased authentication and security and tracking capabilities reducing errors, shrinkage, and counterfeiting while improving customer satisfaction — information is only valuable if it is correct.
Velocity. Reducing workflow issues by minimizing the time spent finding and tracking needed assets, in turn increasing product flow and handling speeds.
Insight. Providing the real-time information needed to make faster, better and more informed decisions and the ability to be more responsive to the customer.
Capability. Providing new applications and quality to meet supply chain partner demands and enhance customer experiences.
For more information on quantifying your ROI by upgrading to RFID, please contact us.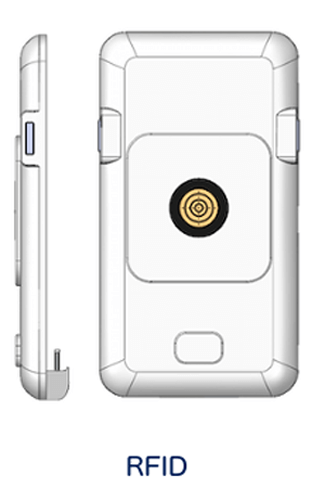 • Advanced Features / Competitive Price
Excel
The RFID AsReader ASR-030D / ASX-630R models for 6th generation devices and the ASX-030D / ASX-301R for 5th generation models have many advanced features to improve your speed and accuracy in reading and writing tags. Using RFID tags can be read or written even without line of sight in very large quantities. This is huge performance increase or single scan barcodes which require aiming the barcode scanner at each tag one-by-one.
Additional features of the RFID AsReader include:
Built-in "Anti-Collision" algorithm which allows you to read many tags within your read range at once
Adjustable power rating for more precise reading/writing and reduced bleedover
The option to turn off/on the "smart hopping mode" to achieve best performance
High speed reading of UHF Band RFID tags
27,000 reads on a single iPod/iPhone battery charge
50,000 reads on the AsReader battery (7+ hour continuous operation)
Fast charging (about 2 hours) using MagConn magnetic connector charging station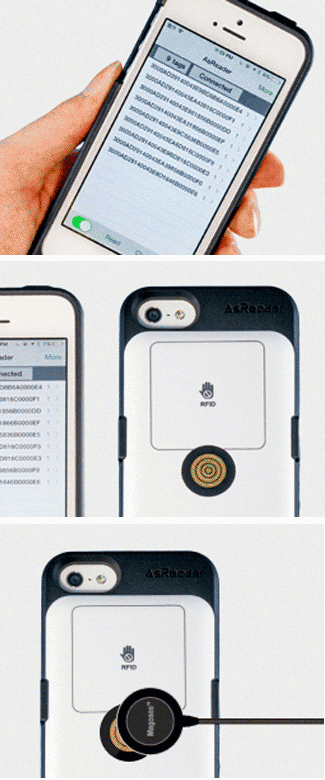 AsReader, Inc manufactures several different models of the RFID AsReader which are designed to function with different models of iOS devices.
The 300x series is designed exclusively for the 5th generation devices. The ASR-030D RFID AsReader, however, is designed as a modular system that allows its use with different size models of iOS devices. This means that the same AsReader can be used on iPhone 6/6s as well as the iPhone 6 Plus, and iPad models.
The ASX-300X series models are designed for use with the iPhone 5 and iPhone 5s, iPod touch (5th gen)
The ASR-030D model is designed for use with the iPhone 6 and iPhone 6s, iPhone 6 Plus, iPod touch (6th gen), and iPad Air and iPad Mini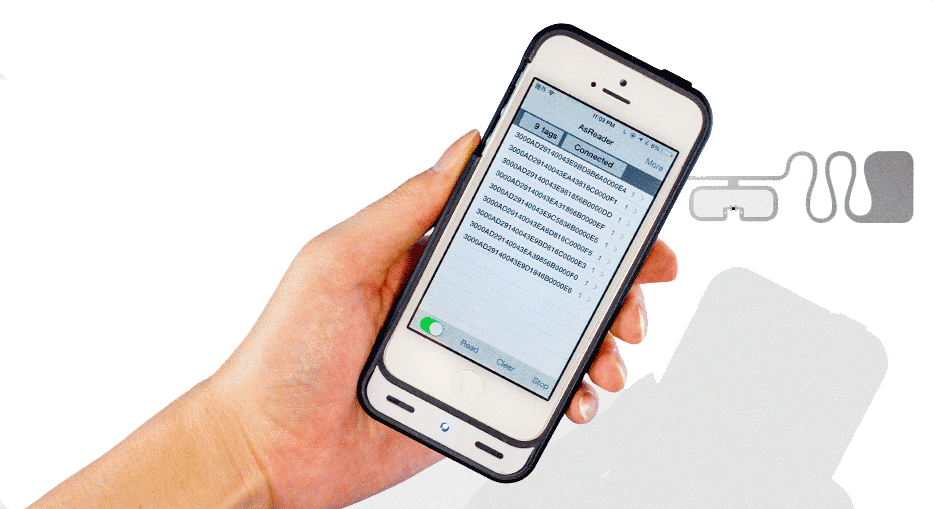 Ten More Great Reasons to Choose RFID AsReader
Read and write high-level RFID tags with the combined power of the UHF band RFID AsReader and the iPhone or iPod touch.

Anti-collision feature enables safe and convenient mixed tag reading.
Low Cost / Great Value
Compared to the majority of business terminals, the AsReader and iPod touch combo are less than half the price.
Very Compact & Stylish
Easily fits in your pocket. The size is the same as an iPhone case. The weight of the RFID AsReader is just 95 grams (3.34 ounces).
iPhone/iPod touch Functional Features Retained
In addition to the terminal applications, full access to the iPhone/iPod touch functions are retained.
Dust Proof & Water Proof IEC Regulation IP52 Standard
All AsReader models are certified to meet the IEC International Water and Dustproof Standards.
Drop Resistance Performance
Even when dropped from a height of 1.5m (5 feet) all six surfaces of the AsReader are shown to be drop resistant.
Improved RFID Read Accuracy
Reduce "bleed over" with our adjustable power rating for RFID. Optionally switching-off the "smart hopping mode" may also improve your accuracy.
Lightning
Apple genuine Lightning Connector for seamless connections and upgrade compatibility with future Apple devices.
MagConn
Eliminate cable "break points" with our magnetic connector for simultaneously charging of AsReader and iPhone/iPod.
920MHz UHF Band
Read/write is possible from about 1 meter. Data quantities significantly larger than barcodes or 2G codes can be handled.
Read & Write
Read tags as well as write new data onto tags. Use our free SDK to create unlimited possibilities to meet your application requirements.
Get started using the "RFID for Dock" app in just minutes
1 Download the "RFID for Dock" App

Getting started with AsReader RFID handheld readers is easy. Snap together the RFID AsReader with your selected Apple 6th gen device (iPhone 6~, iPod, iPad), then download the "RFID for Dock" app from the Apple AppStore. Just point and click (or touch the "read" button") toward the tags that you would like to catalog. Instantly, all the RFID tags within range will be read.

2 Manage and Track Items Movement or Status

Now that you've read-in the tags you can use the app to link to other systems, such as your inventory control, to record the movement or status of these products. You can even write back to the tag additional information to improve tracking and asset management. Download other apps, such as AsKey, to make it even easier to transfer data. Or, fully customize your application using our royalty-free SDK.

3 RFID for Dock Settings

Quickly adjust settings on your RFID AsReader to improve performance and accuracy. For example, easily turn on/off smart hopping. Adjust the power rating in order to more accurately define the range of your tag readings.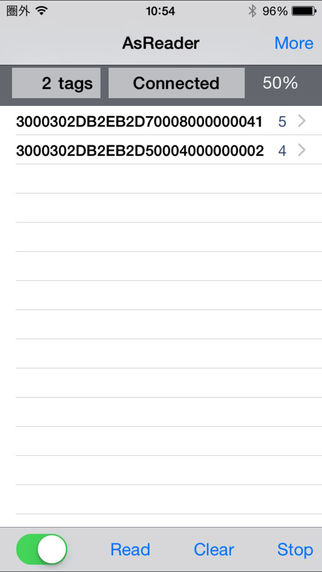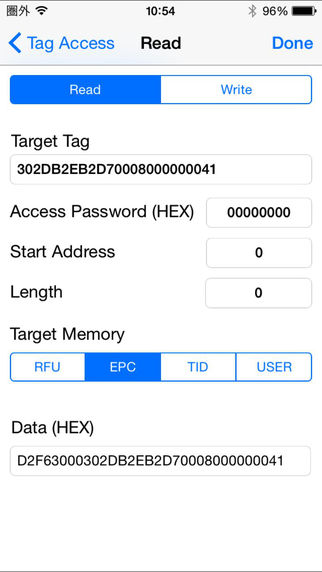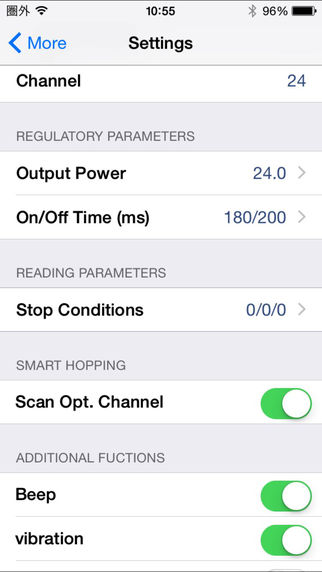 When changing an IV drip in the middle of the night, the sound of a rolling dolly with a computer would annoy patients. We are so grateful that we can now quietly accomplish our task with a handheld AsReader.

Tottori University Hospital

Hospital Staff
When changing an IV drip in the middle of the night, the sound of a rolling dolly with a computer would annoy patients. We are so grateful that we can now quietly accomplish our task with a handheld AsReader.

Tottori University Hospital

Hospital Staff