• Slim, Stylish and Durable Design
Slim!
The Barcode AsReader has an ultra-compact design for easy carrying and handling.
Dimensions: 141.4 x 64.4 x 17.8mm (5.59" x 2.54" x 0.70") Weight: Approx. 80 grams (1D model without iPhone ® or iPod Touch ®). AsReader has buttons on each side to enable either left-handed or right-handed usage. Made of TPU and polycarbonate, the AsReader case is both durable and stylish. With an attractive and stylish design, the AsReader is suitable for a wide range of environments, including retail stores, hospitals, warehouses, or high-end luxury shops.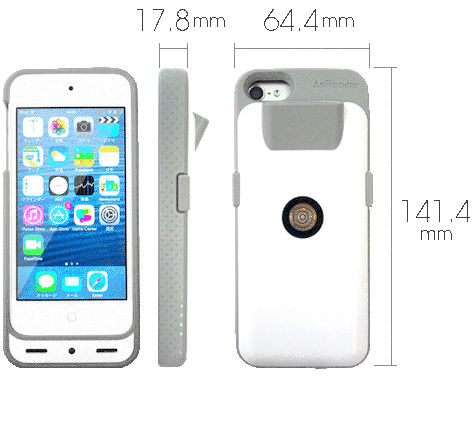 • 1D and 2D Barcode AsReaders for iPhone5 and iPhone6
Versatile

There are AsReader Barcode models for both 5th and 6th generation iPhones and iPods. Just snap together the iPhone/iPod into the AsReader and your device becomes a professional handheld barcode reader with many extra features, as well as retaining access to all the smart device functions.
An option is available (ASW-T5) for the iPod touch to be able to use the headset, enabling voice talking. For example, in a hospital or a factory, users may use AsReader as a handheld terminal and as an intercom device.
The ASX-610R model supports major 1D barcode formats such as UPC/EAN, CODE 128 ITF, CODABAR, GS1 DATABAR, and many more. The ASX-620R model supports major 2D barcodes such as QR Codes, RSS14 Stacked, PDF417, Datamatrix, PostNet, etc, as well as all of the 1D barcode formats of the ASX-610R model.

A variety of colors are now available. Additional custom colors can be made to match your corporate colors.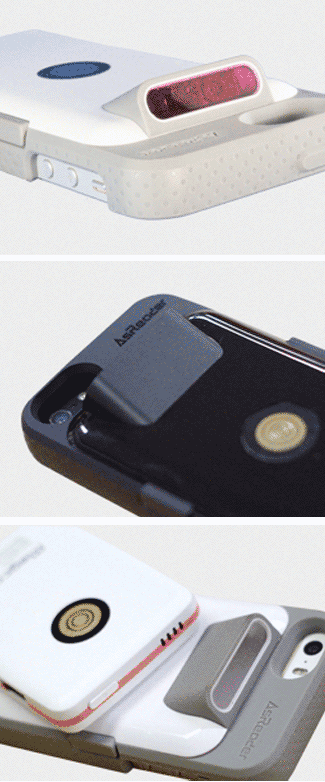 Eight More Great Reasons to Choose AsReader Barcode
AsReader Barcode turns your iPhone or iPod touch into a powerful hand-held barcode terminal!

Retain full access to all smart device functions.
Low Cost / Great Value
Compared to the majority of business terminals, the AsReader and iPod touch combo are less than half the price.
Very Compact & Stylish
Easily fits in your pocket. The size is the same as an iPhone case. The weight of the RFID AsReader is just 95 grams (3.34 ounces).
iPhone/iPod touch Functional Features Retained
In addition to the terminal applications, full access to the iPhone/iPod touch functions are retained.
Dust Proof & Water Proof IEC Regulation IP52 Standard
All AsReader models are certified to meet the IEC International Water and Dustproof Standards.
Drop Resistance Performance
Even when dropped from a height of 1.5m (5 feet) all six surfaces of the AsReader are shown to be drop resistant.
Pinpoint Barcode Scanning
Able to aim and scan a single target barcode even when there are many other 1D/2D barcodes nearby (2D AsReader models).
Lightning
Apple genuine Lightning Connector for seamless connections and upgrade compatibility with future Apple devices.
MagConn
Eliminate cable "break points" with our magnetic connector for simultaneously charging of AsReader and iPhone/iPod.
Top 5 Reasons to Upgrade Your Barcode Readers to AsReader
Upgrade



Time to upgrade your existing Barcode Readers? We offer a solution that has:
  Sleek, stylish design to fit nicely in your environment...and your hand!.
  Modular/Interchangeable design to work with future devices and longer useful life.
  Faster scanning and longer battery life.
  MagConn magnetic connection charging without cord -- break resistant.
  Overall Lower Investment Cost & Great ROI.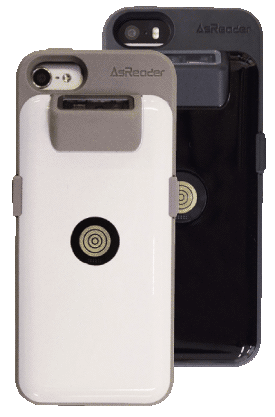 1 1D Barcodes Supported

Most common international 1D barcodes are supported, including CODE128, CODE39 and UPC-A, and UPC-E.

2 2D Barcodes Supported

Our 2D models support both the 2D and all of the 1D barcodes shown above. Supported 2D barcodes include QR Codes and PostNet.

3 UHF Band RFID Tags

For RFID tags you'll need one of our RFID AsReader models. If you need an AsReader that supports both barcodes and RFID, then please inquire about availability.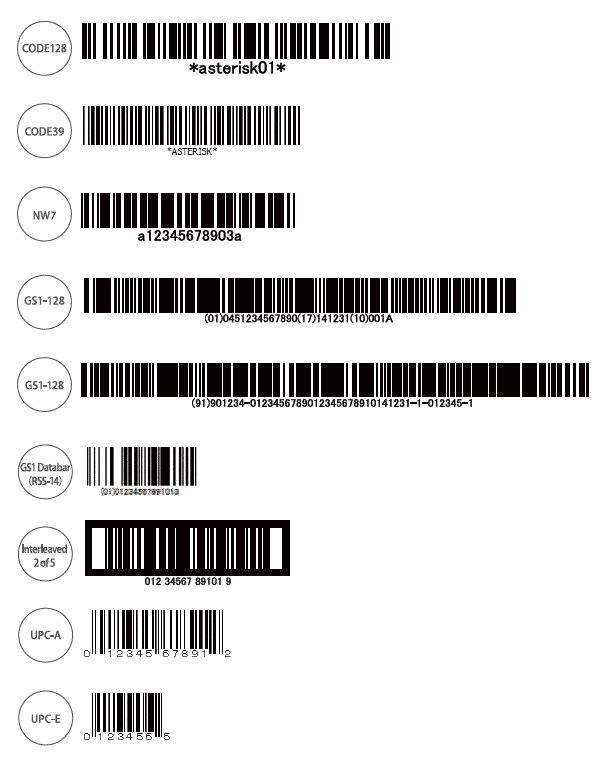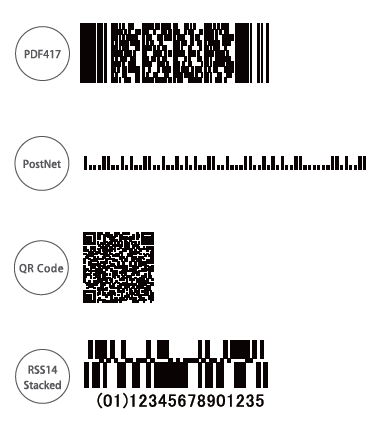 When changing an IV drip in the middle of the night, the sound of a rolling dolly with a computer would annoy patients. We are so grateful that we can now quietly accomplish our task with a handheld AsReader.

Tottori University Hospital

Hospital Staff
When changing an IV drip in the middle of the night, the sound of a rolling dolly with a computer would annoy patients. We are so grateful that we can now quietly accomplish our task with a handheld AsReader.

Tottori University Hospital

Hospital Staff